"HAPPINESS IS HIKING WITH FRIENDS"
Hiking is a great way to get exercise, refresh your mind and body, enjoy the beauty of the Olympic Peninsula, and connect with friends and family. Whether this is your first time joining us or you're a seasoned hike-a-thon'er, there are lots of new elements to enjoy and share this year!
Registration Prices:
Adult with Shirt: $35
Adult without Shirt: $20
Kid or Pet with Bandana: $5
Kid Add-On with Adult Entry (No Bandana): Free
---
How Does It Work?
This event makes it possible for you to participate as much or as little as you want, BUT we want you to get the most out of it so here are all the elements:
Register at https://2023HikeUnited.givesmart.com. You'll have an opportunity to enter your shirt size. Sizes are NOT guaranteed after June 2, 2023. We will do our best to accommodate you.

We will send you a link to our private Hike-a-Thon Facebook group.

Post a photo each week in the group to be entered in that week's giveaway.

Giveaways include gift certificates and goodies from local businesses.

There are no restrictions on what constitutes a "hike."

We encourage you to hike as much or a little as you want and share photos in the group. However, you'll only be entered once into that week's drawing.
---
Group Kickoff Hike
New this year! Join us on Friday, June 23 at 4pm at Hollywood Beach in Port Angeles for our first group hike! United Way of Clallam County will provide water and healthy snacks, and the hike will be led by local hiking legend, Bobbi Fabellano, and super hiker / board member, Kristin DeCou. Registered hikers will be able to pick up shirts in the sizes they requested. On-site registrants can choose a size from available shirts. We will do our best to accommodate everyone.
Bring a Buddy Drawing
Also new this year is our Bring a Buddy Drawing! Bring a friend to register at our Group Kickoff Hike and both you AND they will be entered to win a prize from an awesome local business! The drawing will occur just before the group kicks off the hike around 4:20pm. Must be present to win.
Bobbi Fabellano
Image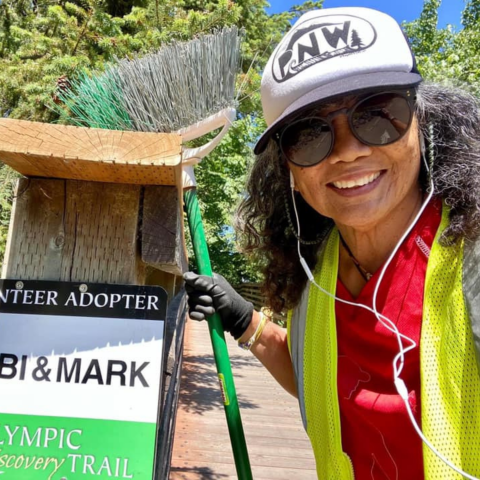 Kristin DeCou (and family)
Image